When planning a family trip, taking your children and their friends to various destinations, the Suzuki Ertiga is a solid alternative that can also be adapted to increase trunk space. Ideal for large families, cruising with friends or transporting passengers, the Suzuki Ertiga 2022 SUV has seven seats. Its rear seating positions can be folded down to maximize cargo space.
Design
At 4.395 meters long. The interior of the Ertiga has a second row of seats with 3 seats and a third more for 2 occupants or passengers. Its width of 1.520 meters makes this vehicle has ample interior space. This passenger SUV has seat belts and ISOFIX anchorage for children, ideal for quiet and family travel, providing a high quality of life at all times. The Suzuki Ertiga will bring you pleasure and performance at the best price.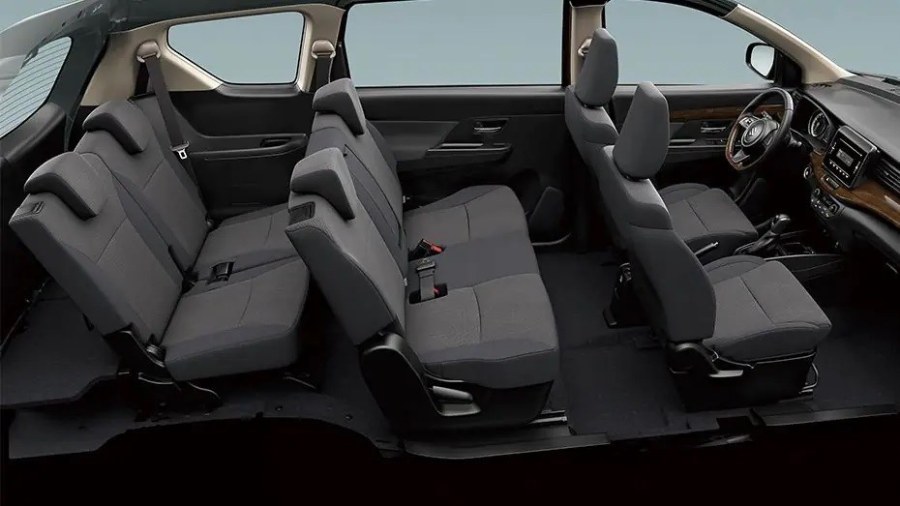 Image Courtesy autopediame.com 
A car for the city
For several years now, Suzuki Ertiga's focus has been on the convenience of its owner. Aiming for higher performance, lower fuel consumption, maintenance services and economical spare parts. The Suzuki Ertiga features an AM/FM Radio entertainment system with MP3, CD and AUX compatibility. Optional you can change it to a Carplay touch screen accessory.
Interior
The dashboard of the Suzuki Ertiga, will allow you to have a control of the speed in motion, with a screen that will allow you to visualize the fuel efficiency and the mileage traveled. In the central panel of the car, you will find two cup holders and manual air conditioning to regulate up to 4 air speeds and USB charging port.
Engine
Coupled with efficient multi-point injection and a 1,462 cc engine, the Ertiga is capable of 103 horsepower and 138 Nm of power at 4,400 rpm (with the ability to reach 6,000 RPM). Innovation lies at the heart of the Ertiga. It is built on the new-generation Suzuki HEARTECT. Lightweight and highly rigid, it reduces fuel consumption and efficiently disperses impact in the event of a collision.
Safety
The Suzuki Ertiga 2 is equipped with 2 SRS front airbags to help mitigate the impact in the event of a frontal collision, in addition to seat belts in all seats. As a family-oriented car, the Suzuki Ertiga 2022 is equipped with an ISOFIX child seat anchorage system to ensure a safe, appropriate and traffic-regulated transit for a comfortable and carefree drive.